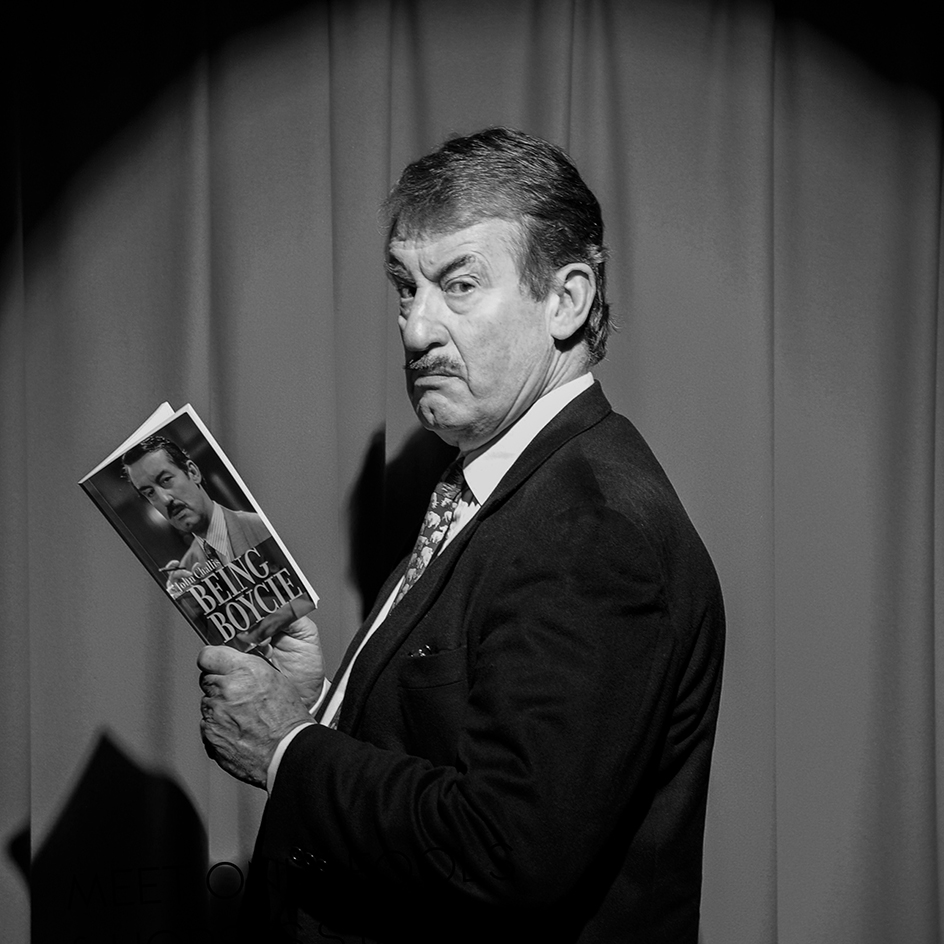 Only Fools and Boycie
With John Challis's spring tour postponed, fans bombarded his host, Carl Jones, with questions that they'd planned to ask. And in this one-off podcast, John Challis took his popular 'Ask Boycie' session online, so that he could respond to fans. Check out what he has to say about Only Fools and Horses and other questions - then make sure you buy tickets for one of his forthcoming shows. They've all been rescheduled to Autumn, when you'll be able to meet John Challis at a venue near you.
---
Details
Enjoy an intimate evening with John Challis, one of the nation's greatest comedy actors, best known as Boycie in BBC1's Only Fools and Horses. In this one-off show the national treasure will reveal secrets from the set with stories and anecdotes from his dazzling career.
Having worked with some of the biggest names in show business, he'll be spilling the beans about Only Fools and Horses co-stars like Sir David Jason and Nicholas Lyndhurst and friends and fellow performers like The Beatles, The Rolling Stones, Oliver Reed and George Best. He'll also recall tales from his time in Dr Who, Coronation Street and other TV classics.
Mr Challis will also meet fans after the show to sign autographs and pose for pictures, while signing copies of his autobiography, Being Boycie, and novel, Reggie: A Stag At Bay.
Whitley Bay, Playhouse
£19.00
Newark, Palace Theatre
£19.00
Braintree Arts Theatre
£19.00
Wantage, The Beacon
£19.00
1st September 2020
7.30 PM
2nd September 2020
7.30 PM
Tamworth Assembly Rooms
£19.00
5th September 2020
7.30 PM
6th September 2020
7.30 PM
Bury St Edmunds, The Apex
£19.00
7th September 2020
7.30 PM
Wellingborough, Castle Theatre
£19.00
9th September 2020
7.30 PM
Isle of Wight, Shanklin Theatre
£19.00
11th September 2020
7.30 PM
12th September 2020
7.30 PM
Boston, Blackfriars Arts Centre
£19.00
13th September 2020
7.30 PM
Faversham, Alexander Centre
£19.00
15th September 2020
7.30 PM
Penzance, The Acorn
£19.00
16th September 2020
7.30 PM
17th September 2020
7.30 PM
East Grinstead, Chequer Mead Theatre
£19.00
21st September 2020
7.30 PM
Norwich Arts Centre
£19.00
22nd September 2020
7.30 PM
Stourport, The Civic
£19.00
23rd September 2020
7.30 PM
Pontardawe Arts Centre
£19.00
26th September 2020
7.30 PM
28th September 2020
7.30 PM
Carmarthen, The Lyric
£19.00
29th September 2020
7.30 PM
Bristol, Redgrave Theatre
£19.00
30th September 2020
7.30 PM
Uffculme, The Venue
£19.00
Frome, Merlin Theatre
£19.00
Chipping Sodbury Town Hall
£19.00
Broadstairs, Sarah Thorne Theatre
£19.00
Birmingham, Old Rep
£19.00
14th October 2020
8.00 PM
15th October 2020
8.00 PM
Midlands Park Hotel, Portlaoise
£22.00
16th October 2020
8.00 PM
Glenroyal Hotel, Maynooth
£22.00
17th October 2020
8.00 PM
Barrel Venue, Drogheda
£22.00
18th October 2020
8.00 PM
Hotel Kilmore, Cavan
£22.00
22nd October 2020
7.30 PM
Hayes, Beck Theatre
£19.00
28th October 2020
7.30 PM
Maidenhead, Norden Farm
£19.00
30th October 2020
7.30 PM
Peterborough Vivacity
£19.00
1st November 2020
7.30 PM
Tenbury Wells, Regal Theatre
£19.00
3rd November 2020
7.30 PM
Colchester Arts Centre
£19.00